KNIGHTSBRIDGE PLASTICS INC.

Since 1982

ISO 9001/ISO 13485 Certified
TORLON® PAI Approved Molder
Microfluidics
In today's modern high tech world of DNA sequencing, liquid chromatography, and a vast array of medical device components, all demanding the ultimate in micro fluidic applications and functionality, Knightsbridge's history and unique capabilities in the field of micro-molding are especially suited for the critical demands of its clients. Over three decades of innovating and perfecting new, exciting techniques and procedures involving very small and intricate part design has contributed to our legacy of being one of the nation's most sought after companies for the design assistance, mold fabrication, and production of highly specialized, detailed, and demanding component parts related to the medical, electronic, defense, and life science communities.

KPI has partnered with Wainamics Inc. to provide our customers with microfluidic engineering design solutions along with our injection molding capabilities.
Wainamics offers fifteen years of experience in consumable cartridge product development for in-vitro diagnostics and life science incorporating microfluidic design, material research, and surface chemistry parameters. Wainamics enables KPI to provide streamlined design to production service for microfluidic products.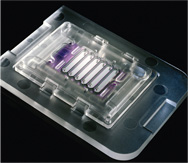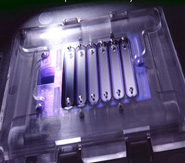 Knightsbridge Plastics Inc. 3075 Osgood Court,
Fremont, CA 94539-5652
(800) 579-1990 (toll free)
(510) 440-8444
(510) 440-8464
sales@kpi.net

Map to KPI